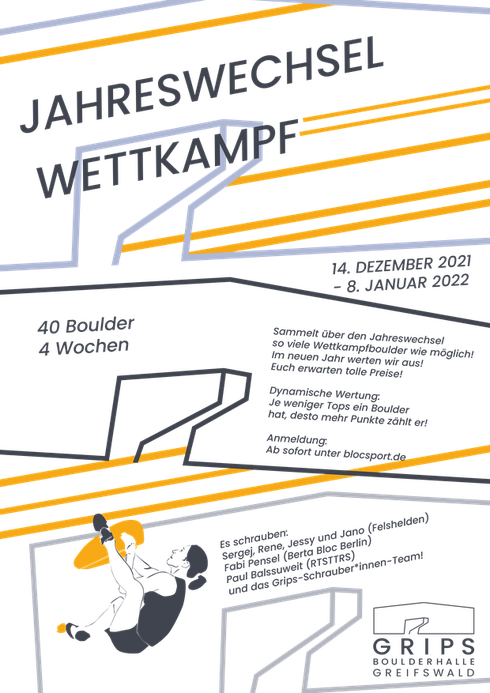 Date and time
When does the event take place?
Bouldering period

Tuesday, 12/14/2021 6:16 p.m. — Saturday, 02/19/2022 6 p.m.
Details
What is happening? Who's taking part? How does the ranking work?
Evaluation mode

dynamic ('Holland-Mode') (all boulders count)

Each boulder has a certain value.
The more people succeed in a boulder, the less points it is worth.
If the ascent was made in one go (also known as a flash), the participant is rewarded the boulder value times

1.3

.
If the boulder was not climbed completely, but a specially marked hold (called the zone / bonus) was reached, the participant is rewarded

0.3

of the boulder value.
difficulty = 1 -

1.3 × Flashes + Tops + 0.3 × Zones

---

1.3 × active participants

boulder value = initial value × difficulty

Participants

Age groups

Description

Während wir noch darum trauern, dass die Ostblock-Cup Station im Grips leider nicht stattfinden konnte, wollen wir Euch zu einem mehrwöchigen Wettkampf über den Jahreswechsel einladen!

Wir schrauben ab Dienstag, dem 14.12.2021 drei Mal große Sektoren um und Ihr könnt bis Anfang Januar Boulder sammeln und damit Punkte.

Für die Gesamtsieger haben wir kleine Boulder-Überraschungspakete parat - es geht um hochwertige Boulder-Ausrüstung!

Es schrauben für Euch die Ostblock-Cup-Final-Schrauber Fabi Pensel und Paul Balssuweit, das Schrauber-Team der Felshelden und das Grips-Schrauber*innen-Team!
Contact
Who to contact in case of questions or problems?
Host

Technical inquiries
Location and directions
Where does it take place and how to get there?
Address

Grips
Am Gorzberg 16
17489 Greifswald
Other competitions in this cup
This event,
Grips Jahreswechsel
, is part of the competition series
Grips Jahreswechsel
. Here you can find the
overall cup ranking
. Other events in this series are shown below: