Ostblock-Cup 21/22 Bloc No Limit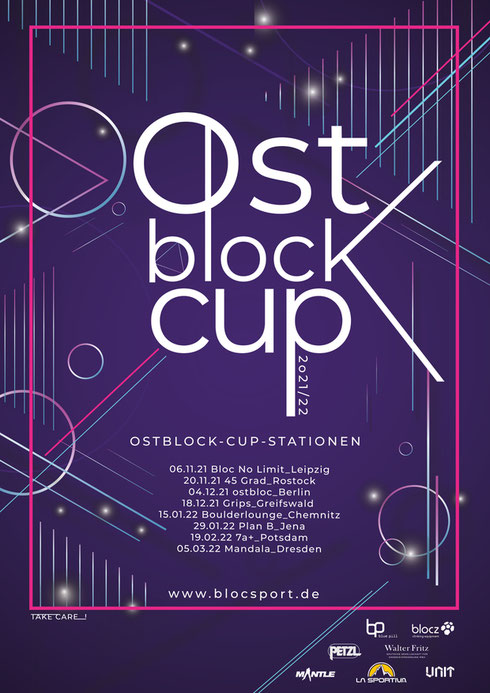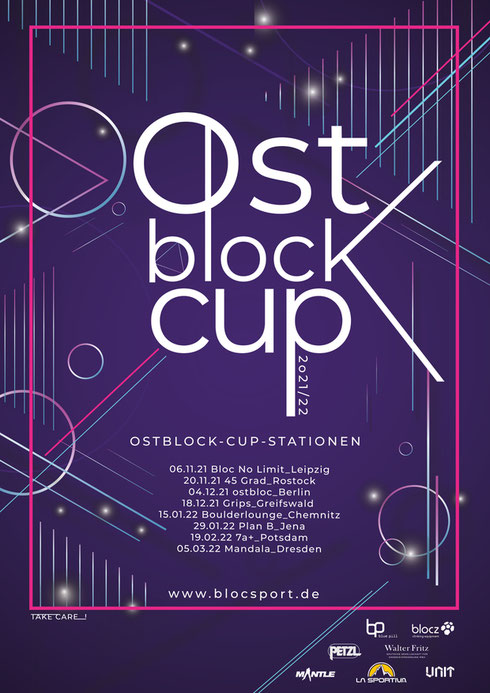 Date and time
Registration opens at

Saturday, 10/23/2021 11 a.m.

Bouldering period

Saturday, 11/06/2021 noon—6 p.m.

Final

7 p.m.
Details
Participants

5 of 250

(show)

Age groups

Erwachsene (ab 13 Jahren)

Entry fee

15.00 €
Alle haben darauf hingefiebert und endlich ist es wieder soweit.
Nach langer Pause geht der OstblockCup in eine neue Runde.
Mit genialen Bouldern und einer einzigartigen Stimmung starten wir am 06.11.21 hier im Bloc No Limit in die neue Saison.
Für Euch schrauben Fabi Pensel, Tomasz Oleksy, Paul Balssuweit, Alex Samus unterstützt von der Leipziger Crew vertreten durch Markus Dornberger, Karl Andraczek, Yvonne Lippmann und Thomas Neumann.
Teilnahmegebühr: 15 Euro
Die Wertung erfolgt nach statischem System.
Location and directions
BLOC NO LIMIT
Brandenburger Straße 26
4347 Leipzig
Evaluation mode
This competition's boulder values are static. That means that each boulder is given a predetermined point value by its setter, taking into account the estimated grade or difficulty. Each boulder's value can be seen on the boulder list page.
Each participant's overall score is the sum of the points of their ascents in the respective ascent style.
Next to regular ascents, flashes will be taken into account. A Flash is when the top hold of a boulder is reached on the first attempt. This will multiply the boulder's value by 1.3.
Other competitions in this cup
This event,
Ostblock-Cup 21/22 Bloc No Limit
, is part of the competition series
Ostblock-Cup 2021/2022
. Here you can find the
overall cup ranking
. Other events in this series are shown below: