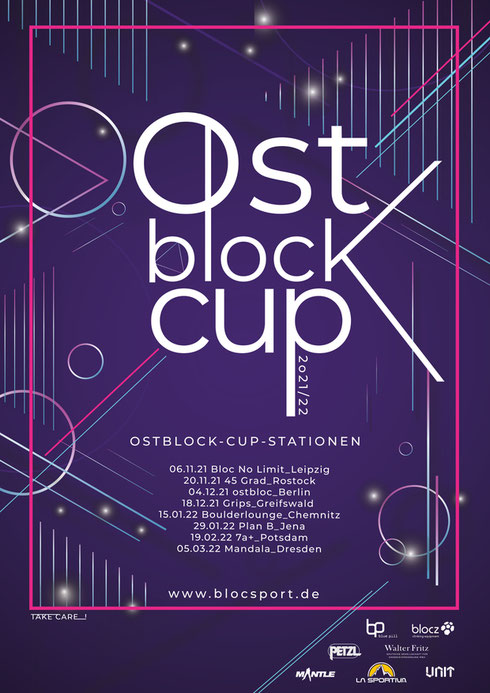 Date and time
When does the event take place?
Bouldering period

Friday, 12/03/2021 9 a.m. — Saturday, 12/04/2021 6 p.m.

Final

7 p.m.
Details
What is happening? Who's taking part? How does the ranking work?
Evaluation mode

dynamic ('Holland-Mode') (all boulders count)

Each boulder has a certain value.
The more people succeed in a boulder, the less points it is worth.
If the ascent was made in one go (also known as a flash), the participant is rewarded the boulder value times

1.1

.
If the boulder was not climbed completely, but a specially marked hold (called the zone / bonus) was reached, the participant is rewarded

0.1

of the boulder value.
difficulty = 1 -

1.1 × Flashes + Tops + 0.1 × Zones

---

1.1 × active participants

boulder value = initial value × difficulty

This competition is held in two difficulty categories (relaxed/easy and power/difficult). Each ranking is calculated separately.

Participants

Age groups

Erwachsene (ab 13 Jahren)

Difficulty grades

Easy and Difficult (with separate rankings)

Description

11. Ostbloc Jedermenschwettkampf

Um an diesem Wettkampf teilzunehmen, musst Du unter folgenden Link Startplatzregistrierung dein Ticket buchen! Zudem stehen auf der Ostbloc-Seite alle relevanten Informationen zum Event!

Eine Registrierung auf Blocsport ist keine verbindliche Buchung für eine Teilnahme am Event!

Die Registrierung auf Blocsport dient alleine für die Auswertung des Wettkampfs. Hier auf Blocsport trägst Du lediglich später Deine Boulder auf auf Deinem Laufzettel Deine Tops/Flashs ein!

Also bitte registriere Dich zu erst unter ostbloc.de um am Wettkampf teilzunehmen!

Bis denne!
Contact
Who to contact in case of questions or problems?
Host

Organizational inquiries

Technical inquiries
Location and directions
Where does it take place and how to get there?
Address

Ostbloc
Hauptstraße 13
10317 Berlin
Other competitions in this cup
This event,
Ostblock-Cup 21/22 Ostbloc
, is part of the competition series
Ostblock-Cup 2021/2022
. Here you can find the
overall cup ranking
. Other events in this series are shown below: