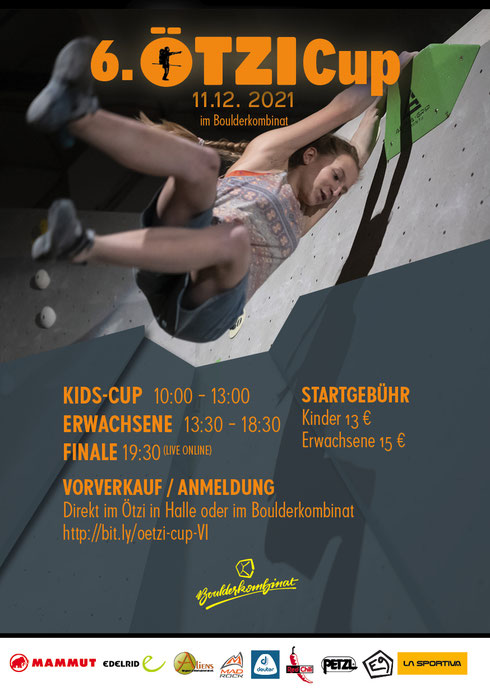 Date and time
When does the event take place?
Bouldering period

Saturday, 12/11/2021 1:30 p.m. — 6:30 p.m.

Final

7:30 p.m.
Details
What is happening? Who's taking part? How does the ranking work?
Evaluation mode

dynamic ('Holland-Mode') (all boulders count)

Each boulder has a certain value.
The more people succeed in a boulder, the less points it is worth.
If the ascent was made in one go (also known as a flash), the participant is rewarded the boulder value times

1.3

.
If the boulder was not climbed completely, but a specially marked hold (called the zone / bonus) was reached, the participant is rewarded

0.3

of the boulder value.
difficulty = 1 -

1.3 × Flashes + Tops + 0.3 × Zones

---

1.3 × active participants

boulder value = initial value × difficulty

This competition is held in two difficulty categories (relaxed/easy and power/difficult). Each ranking is calculated separately.

Participants

Age groups

Erwachsene (ab 14 Jahren)

Difficulty grades

Easy and Difficult (with separate rankings)

Description

Das Boulderkombinat präsentiert den

6. ÖTZI –BOULDERCUP und Kids-Cup

in Mitteldeutschland

Teilnehmen kann jede/r.

---

---

Änderungen oder Absage des Wettkampfes aufgrund der aktuellen Corona-Lage sind jederzeit möglich.

ABLAUF

Einlass: 09:00
Kinder Cup: 10:00 – 13:00
ÖTZI Cup: 13:30 – 18:30 startet direkt im Anschluss an den Kinder Cup
Finale: 19:30

STARTGEBÜHR

Kinder: 13 € Erwachsene:15 €

TEILNAHMEBEDINGUNGEN

KINDER/JUGENDLICHE

Die Kids und Jugendlichen unter 14 Jahren starten in einer extra Wertung. Ein Finale für den Kinderwettkampf gibt es nicht. Die Siegerehrung findet direkt im Anschluss an den Kinderwettkampf statt.

ERWACHSENE

Für die Teilnahme könnt ihr zwischen den Modus "RELAXED" und "POWER" entscheiden. Folgende Schwierigkeiten werden geklettert:

RELAXED

BLAU
SCHWARZ
GRÜN
ROT Die Platzierung im Relaxed Modus steht ab 18:30 fest – es gibt hier kein Finale.

POWER

GRÜN (ja, das überschneidet sich mit dem Relax-Modus)
ROT (ja, das überschneidet sich auch mit dem Relax-Modus)
GRAU
PINK Im POWER Modus werden bei den Männern und Frauen jeweils 4 Finalist*innen gewählt, die dann ab 19:00 im Finale antreten.
Contact
Who to contact in case of questions or problems?
Organizational inquiries

Technical inquiries
Location and directions
Where does it take place and how to get there?
Address

Boulderkombinat
Delitzscher Straße 63a
6120 Halle (Saale)