Station Dresden XXL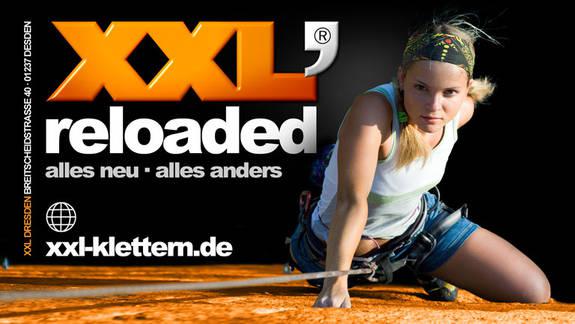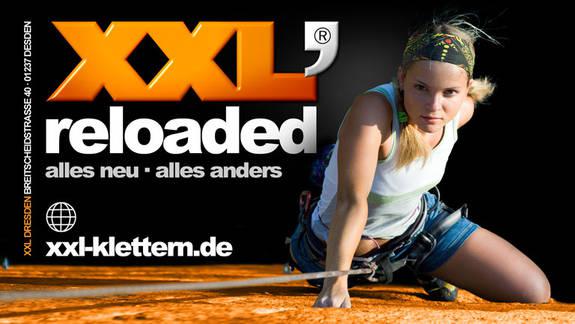 Date and time
Registration opens at

Tuesday, 01/12/2016 8 a.m.

Bouldering period

Saturday, 02/06/2016 9:30 a.m.—5:15 p.m.
Details
Participants

199 of 200

(show)

Age groups

Erwachsene (ab 14 Jahren)

Difficulty grades

Easy and Difficult (with separate rankings)
Der Jahreswechsel ist Geschichte, die Zeit rennt weiter. Der 2. Teil der Bouldercupserie, in Chemnitz, spukt hoffentlich nicht mehr in Euren Muskeln rum. Endlich Zeit zum richtig durchstarten!
Wie im Vorjahr findet die dritte Station des Ostblockcups 2015/2016, nach Berlin und Chemnitz wieder in der Landeshauptstadt von Sachsen statt. Die Boulderanlage im XXL Dresden wartet mit frischen Bouldern auf alle Teilnehmer.
Die Schrauber Sven Albinus, Tom Küchler, Bernd Claudius und das Team vom XXL werden die Boulderküche ordentlich würzen. Die Schwierigkeiten sind nach der Farbscala gegliedert, Gelb bis Weiß. Gestartet wird, wie auch in Berlin, mit Power – bzw. Relaxbouldern. Gewertet wird dabei im Hollandmodus, jeder Boulder bekommt seine Punkte durch entsprechende Begehungen.
Die Schwierigkeiten sind dem jeweiligem Modus angepasst. So bekommen die Relaxer Boulder von Gelb bis Rot unter die Finger. Die es gerne hart mögen bekommen im Powermodus die volle Boulderdröhnung bis Weiß. Jede Startklasse hat dabei etwa 30 Boulder zu bewältigen, alle Boulder mit einer Wertung gehen in die Punkteliste. Die genaue Anzahl der Boulder findet Ihr auf den Laufzetteln.
Am Ende werden, im Powermodus, die stärksten 5 Damen und Herren Ihre Besten in einem spannenden Finale unter sich ausmachen. Die Sieger im Relaxmodus werden anhand der Laufzettel ermittelt. Für alle noch anwesenden Starter werden im Anschluss an die Siegerehrung Sachpreise in Form einer Tombola verlost. Bis zum Schluss dableiben lohnt also in jedem Fall!!!
Zum Ablauf
Beginn Registration ist 09:30 Uhr.
Start der Qualifikationsrunde ist 10:30 Uhr
Ende 16:30 Uhr. Eintragungsschluss ist 17:15 Uhr!!!
Ab 17:00 Umschrauben für die Finals.
Finale ab 17:30 Uhr
Nach den Finals werden die Sieger der jeweiligen Klasse Ihre Preise erhalten. Relax und Power – die besten 3 Damen und Herren. Tombola direkt im Anschluss. Unter allen noch anwesenden Teilnehmern verlosen wir Sachpreise.
Startberechtigt sind alle ab dem 14. Lebensjahr. Die Starterzahl ist auf 200 begrenzt. Eine Startgebühr von 12 Euro ist bei der Registration zu zahlen. Start der Anmeldung ist der 12.02.2016!!!!!!
KEINE NACHMELDUNGEN AM WETTKAMPFTAG MÖGLICH!!!
Sponsoren
Location and directions
XXL
Musterstraße 0
0 Dresden
Evaluation mode
This competition's boulder values are dynamic. That means that each boulder starts off with the same point value regardless of its grade. All participants are encouraged to climb as many boulders as possible. The more often a boulder has been climbed, the more its point value decreases.
difficulty = 1 -
1.3 × Flashes + Tops + 0.3 × Zones
---
1.3 × active participants
boulder value = initial value × difficulty
Each participant's overall score is the sum of the points of their ascents in the respective ascent style.
Next to regular ascents, flashes and zones will be taken into account. A Flash is when the top hold of a boulder is reached on the first attempt. This will multiply the boulder's value by 1.3. Zones (or Bonuses) are given whenever a difficult section of a problem (marked as such) can be cleared. This will multiply the boulder's value by 0.3
This competition is held in two difficulty categories (relaxed/easy and power/difficult). Each ranking is calculated separately.
Other competitions in this cup
This event,
Station Dresden XXL
, is part of the competition series
Ostblock-Cup 2015/2016
. Here you can find the
overall cup ranking
. Other events in this series are shown below: