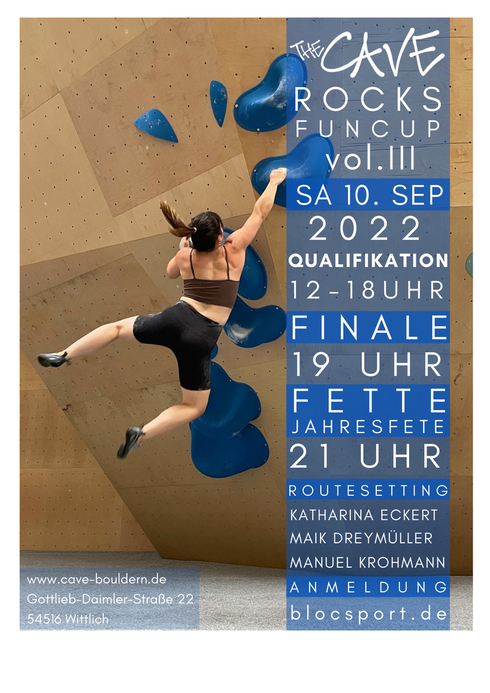 Date and time
When does the event take place?
Bouldering period

Saturday, 09/10/2022 noon — 6 p.m.

Final

7 p.m.
Details
What is happening? Who's taking part? How does the ranking work?
Evaluation mode

dynamic ('Holland-Mode') (all boulders count)

Each boulder has a certain value.
The more people succeed in a boulder, the less points it is worth.
If the ascent was made in one go (also known as a flash), the participant is rewarded the boulder value times

1.3

.
If the boulder was not climbed completely, but a specially marked hold (called the zone / bonus) was reached, the participant is rewarded

0.3

of the boulder value.
difficulty = 1 -

1.3 × Flashes + Tops + 0.3 × Zones

---

1.3 × active participants

boulder value = initial value × difficulty

Participants

Age groups

Erwachsene (ab 12 Jahre)

Description

The Cave Rocks Vol. III Bouldercup mit anschließender Fete, leckerem Essen, erfrischenden Kaltgetränken und guter Stimmung. Quali: 12 - 18 Uhr Finale: 19 Uhr Party: ab 21 Uhr Wir begrenzen die Teilnehmerzahl auf 120 Personen. Freuen uns auf euer Kommen =)
Contact
Who to contact in case of questions or problems?
Host

Organizational inquiries

Technical inquiries
Location and directions
Where does it take place and how to get there?
Address

Cave
Gottlieb-Daimler-Straße 22
54516 Wittlich
Other competitions in this cup
This event,
Cave Rocks Vol. 3
, is part of the competition series
Cave Rocks Vol. 3
. Here you can find the
overall cup ranking
. Other events in this series are shown below: